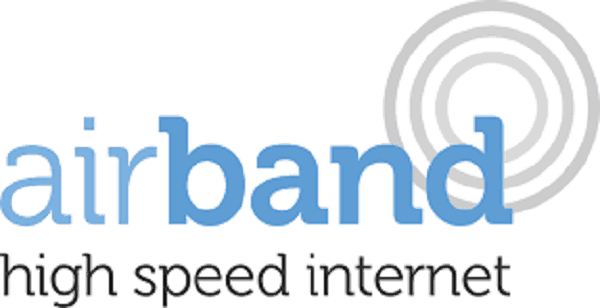 Airband is an internet services provider who supplies fibre and wireless receiver-based internet to businesses in the Midlands and soon will be in parts of the South West too.
Below we look at reviews for the company along with the plans they offer, how much they cost and other key things you need to know to help you decide which business broadband provider is right for your business.
Airband Reviews
Below we look at reviews for Airband from a variety of websites. Please keep in mind that these reviews are for all Airband's services and so may not fully reflect their business offerings.
There are no reviews for Airband.
Airband BusinessFibre.co.uk Score: insufficient information to review (average of scores above)
Airband Business Broadband Plans, Packages & Prices
Airband currently has 2 business broadband offerings which have a variety of speeds. They do not fix packages but tailor their packages to their customers' needs:
Broadband
Price: contact for a quote
Download Speed: available in speed from 5Mbps to 1Gbps
Availability: check but services are available in many areas where fibre isn't
Installation: speedy deployment
Price: contact for a quote
Download Speed: available in speeds from 10Mbps to 1Gbps
Installation: speedy deployment
Fault repairs: 4-hour fix
Note plans, packages, speeds and prices were all accurate at the time of publication (29 May 2018) but may have changed since then. Please check Airband's website for the latest.
Airband Business Broadband Speed
Airband's broadband packages have a range of speeds from 5Mbps to 1Gbps.
Airband Background
Airband is a Worcester based internet service provider who provides broadband services that range from 5Mbps to 1Gbps. They do not advertise their costs as they tailor their broadband services to their customers' needs and therefore they quote based on the services selected.
Airband claim to offer faster internet services in areas that other providers can't through using their wireless receivers that they install in their customers' premises that communicate directly with their transmitters.
This means that businesses do not need to be near a telephone exchange to get faster speeds and they don't need to dig up the roads to install their lines. As result Airband can install internet services quickly with minimal disruption and reduced installation charges.
Airband only provides their services in the Midlands but they are currently expanding their network into Wales, Devon, and Somerset.
Switching To Airband Business Broadband
If you want to switch to Airband you should either complete an online enquiry form or contact them on 01905 676121 to discuss your needs and to get a tailored package with a quote.
Airband Business Broadband Installation
Airband's installation details are not available but they do state that they install a wireless receiver in your building that will communicate with their transmitter. This may require an engineer to correctly locate and align the receiver.
Additional Business Services From Airband
The following are included as standard for all business broadband packages:
Dedicated connections
Quick deployment
Optional extra broadband-related services include:
Campus-wide networks
Internal wireless networks
Multisite MPLS
Point-to-Point links
Redundancy solutions
Other business products and service: Airband does not offer other services
Airband Business Broadband Availability
Airband's business broadband is available throughout most of the Midlands, although not all locations will have higher speed fibre available, they may be able to offer an alternative solution. You can check availability in your area on their website.
Airband Business Broadband Support, Customer Service, & Reporting Faults
You can phone 01905 676121 to report a fault and/or issue with your service. Alternatively, you can contact them online, by live chat and/or e-mail here. And you can read their online help guides here.
Airband Business Broadband Contact
You can get in contact with Airband using the following number:
01905 676121
Website:  https://business.airband.co.uk
Airband Business Broadband Pros/Cons
Pros
They tailor their packages to their customer needs
Offer fast wireless broadband speeds up to 1Gbps
Offer services in many areas where fibre isn't available
Offers 4-hour fault fix on leased lines
Fast deployment due to using wireless receivers not lines and minimal disruption
Cons
No pricing information
No customer reviews